Last Saturday I went to Wimbledon. For the third time. Do I care about tennis? No, not really. I'm not a very sporty girl. But I love going to Wimbledon.
My husband is so keen on anything with balls it's surprising he's not homosexual. He spends all weekend flicking channels between football, rugby, cricket, tennis, hockey, anything at all really. He'll even get into motor racing and darts if there is no ball-based competition to be found. Because he's so happy to watch other people exercise he puts in for the Wimbledon ticket ballot every year. We've been successful twice. We managed to beg tickets through a friend of a friend another year. He also does the queuing for ground passes thing after work quite often during the tournament – something I've never bothered with because I don't care for queuing. Please don't take my British passport away for admitting that.
This year we received Court 1 tickets for last Saturday. It all looked promising. And then Saturday arrived and waged a war upon the dry and comfortable and sod all tennis was played. My feet got wet, and I am seldom happy when I have drenched tootsies.
To be fair, we have been remarkably lucky when it comes to Wimbledon weather in the past. We've always been given tickets for bright, sunshiney days. Oh well. At least this year's photographs were a little different.
Let's go through my day. Mark was eager to get there as early as possible just in case he missed anything. A rooster crowing or something important like that. I stalled him. I needed to paint my nails in Wimbledon colours. I'm pretty sure we left the house at least a half hour later than he wanted. Thank god, because when we arrived it was drizzling and everything looked like this: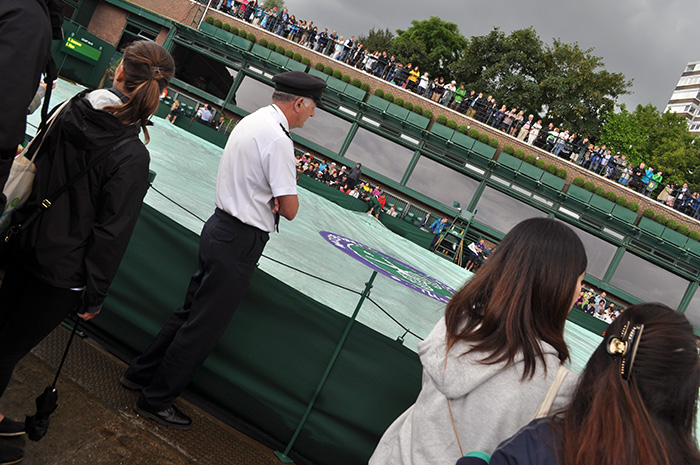 I did not need to spend any more time than necessary standing around in drizzle. So we a reconnaissance tour, just to see if anything had changed or become radically interesting.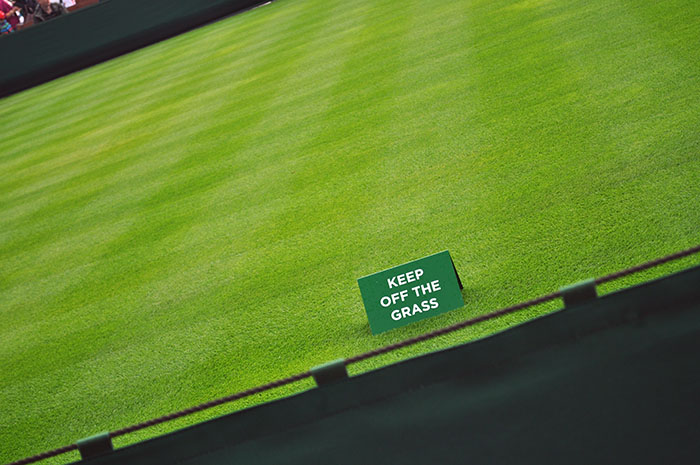 No.
Time for brunch. As much as I wanted the strawberries and cream, it just wasn't the time or the temperature for maximum enjoyment. So we were left with a choice between hotdogs or pizza. Of course. Those old stalwarts of traditional British cuisine. Ahem. Having had pizza last year we decided to branch out with hotdogs.
The great thing about eating hotdogs in the rain at Wimbledon is the rich folks drinking rosé looking down at you from the restaurant above. Very poetic.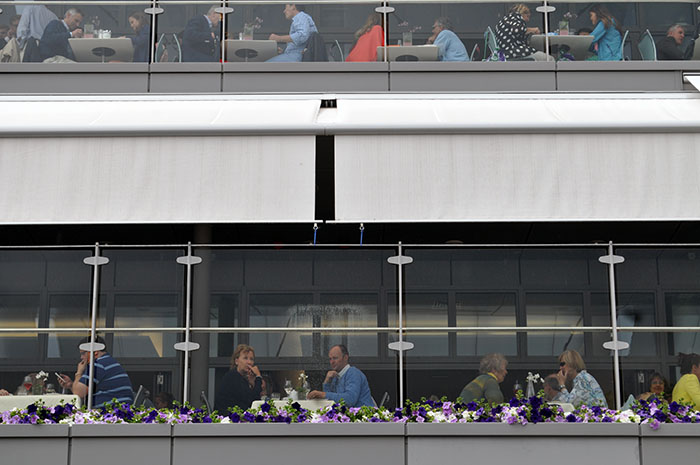 Time for a photo of ME! Just to prove I'm not making all this up: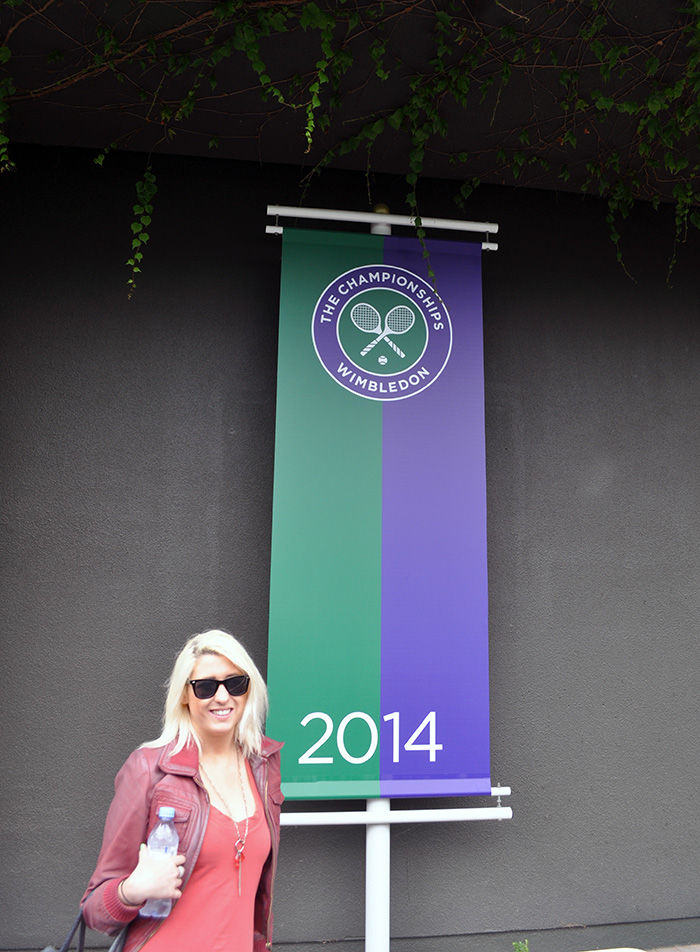 See, I'm a very reliable blogger. And well hydrated. Finally, the weather cleared and we headed into Court 1 to see Serena Williams vs Alizé Cornet.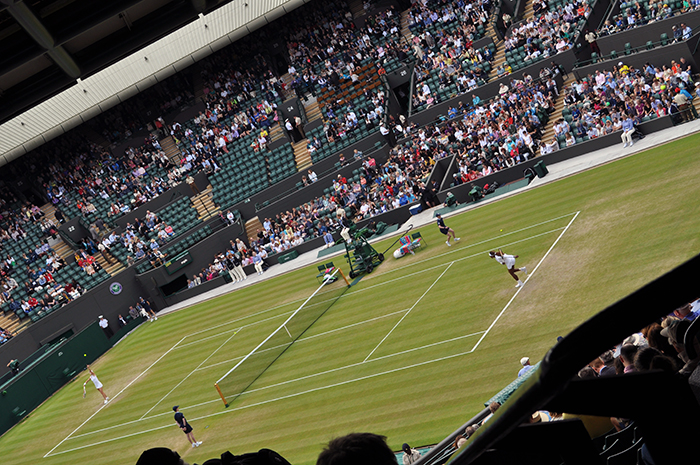 They played for approximately 30 second before the rain decided that things were still looking too dry out there, and this happened: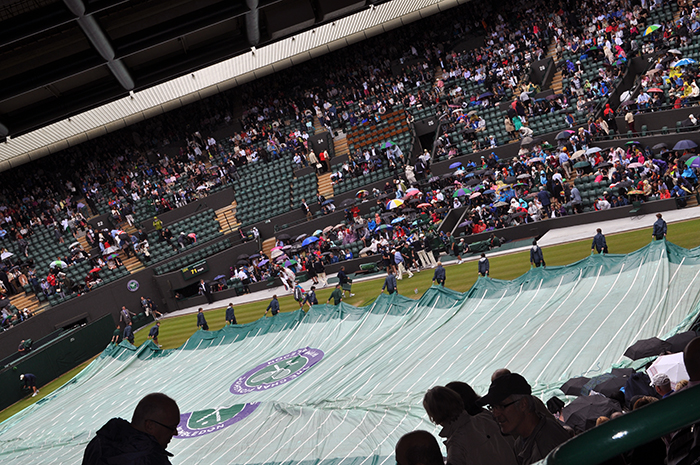 And now the tables had turned! We were up near the back, under the roofed portion of the stadium. We were dry. The fancy people with better tickets than us got wet. And we looked down on them: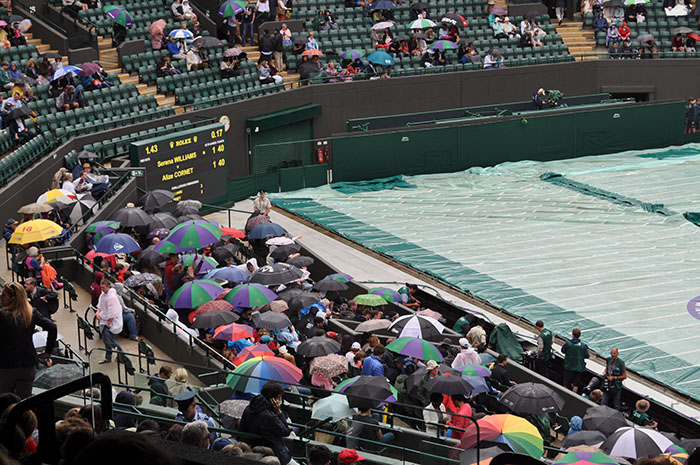 Think that's it? Nope. A few minutes later this happened: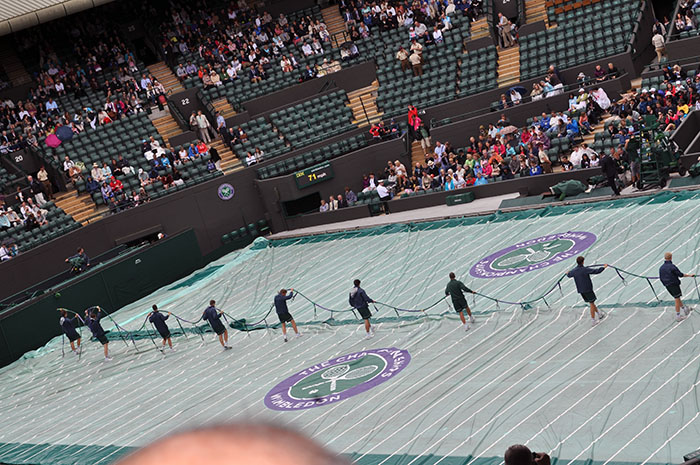 Yup, they tented the court. Who knew? Well, probably a lot of people. But not me. We waited. It rained. We waited. It cooled down. We waited. The little old lady next to me complained that the light was so bad she couldn't take a good selfie. Bored and peckish, we exited our nice dry seating area. This was a mistake. We got wet.
Somewhere, behind all these umbrellas, there's a hill: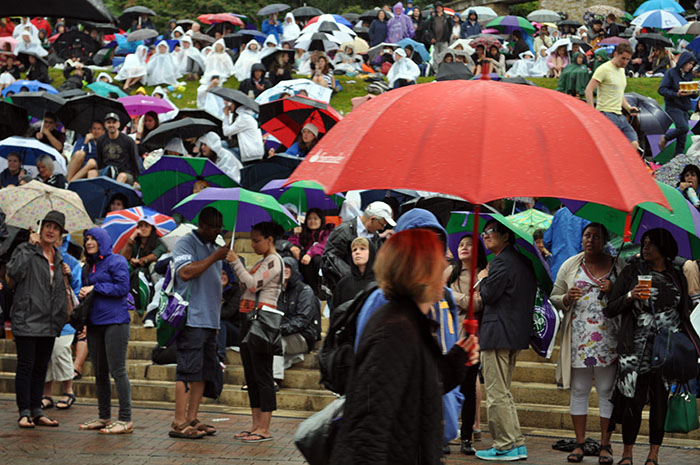 We found a place selling fried chicken and decided to share one, mainly because there was a bit of a roof overhanging the place serving them. It was conveniently right beside a bar, but something about being drenched and bored really puts me off paying £7.80 for a glass of Pimm's, so we skipped it.
Want to know what other amazing sights I saw? Well, here's the inside of my umbrella:
Eventually we had another spot of sunshine. The net was brought out: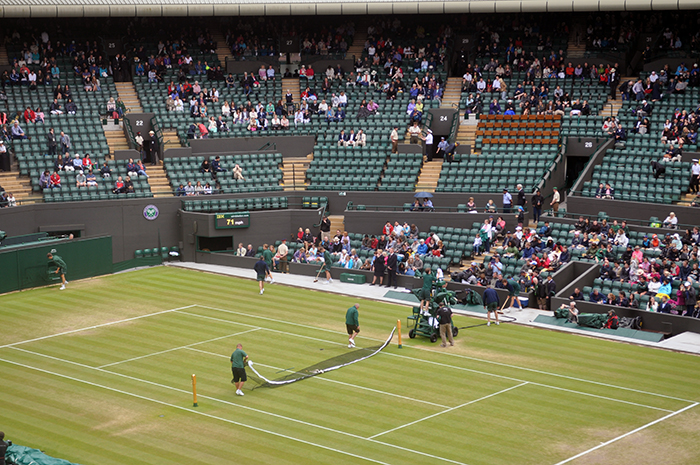 We were then lucky enough to actually watch some tennis. Alizé beat Serena, I ran out of battery on my phone, Mark dropped his phone and smashed the screen and some drunken idiot behind us screamed constantly to cheer Alizé while repeatedly mispronouncing her name. Not the most brilliant of Wimbledons.
But I still frigging love it.