This month for the travel link up the theme is "Travel Outtakes". This provoked a lot of puzzled face on my part, even more so when I received the reminder email that spelled it out even further as:
"How about those times that everything isn't quite so peachy? This month we'd love to see your outtakes. Fuzzy photos, missed flights, awkward eating grimaces – we want to see it all"
You see, the conceit here is that I'm predominantly writing about the peachy situations. Hell, that I predominantly live peachy situations. That I'm portraying some kind of Pinterest perfect, Instagram curated, hashtag inspiring idealism in dot com format and that I should let you all peak behind the curtains because you're wearing the ruby slippers.
No. I'm much too cynical for that. I've never been the wizard of Mayfairy Oz. If anything, I'm Toto the scrappy pup, pulling back the curtains on any attempt at magic bamboozlement. There's no magic here. There may be a few persecuted witches and some woozy ass poppies sending everyone to sleep, but no damned magic. The curtain is always up in Mayfairy Oz.
For example:
Really, how much more do you guys want from me? There's no curtain. Not even a valance or a Venetian blind or even one of those knitted ladies that hide toilet rolls. There's nothing left to peek under. Every miserable, non-peachy event that crosses my path has already been gleefully gathered up for blog content.
Look, guys, I am not cool and I see no reason why you should try to emulate my "lifestyle". Fuck this "influencer" bullshit. THIS IS HOW I EAT CHURROS, FOR GOD'S SAKE: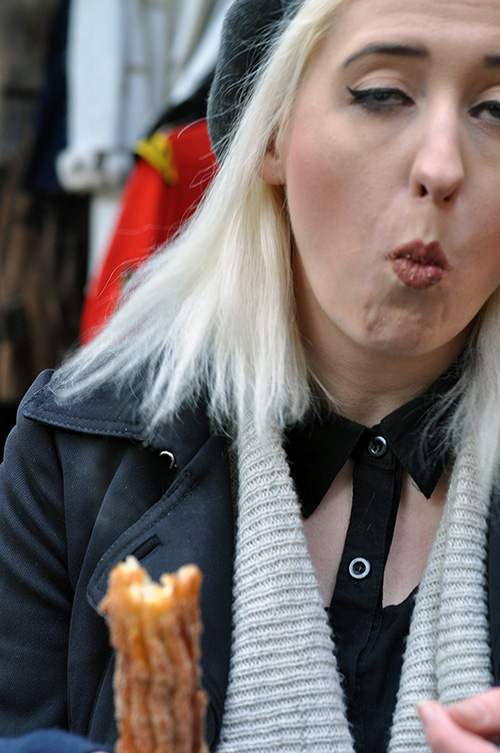 I think I've made my point here. Perfection is overrated. Churros are not.
If you have big, bad secrets to spill, spill them in the link up using the widget on Polly's, Angie's, Emma's or Eppie's blogs by 7 February 2017.