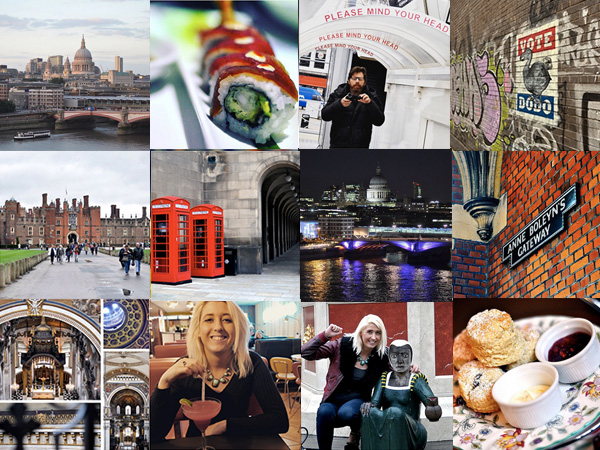 I've been blogging for quite a while now and I've experimented with many genres of blogdom. A while back I wrote a post on food blogger problems and now that the Travel Link Up has decreed I write a "travel blogger problems" post I figured I should give it a sister.
Before I start, I must clarify one point for the non-blogging types out there reading this. Every blogger has two people living in their brains, taking over from the inner monologue. The Human and the Blogger. These two voices permeate our innermost thoughts and shape our most basic decision making processes. Everything becomes a battle between these two people. Who wins the battle? That depends on your level of dedication to madness that is blogging. These are our biggest points of contention.
1. Taking too many photos
Obviously it's not just the bloggers who are taking photos on holiday, at tourist destinations and on picturesque day trips, it's everyone. But not everyone will be posting their pics in a public forum, and thereby needing to snap away continuously at everything so as not to miss the perfect angle.
I myself prefer to just hand the camera over to my husband, so I end up with lots of photos of me in situ. Added bonus: my husband is a much better photographer than I am.
Human: I look like a tourist
Blogger: I look like a vain tourist
Human: How is that better?
Blogger: It's not. Stand up straight. Hair forward. Back arched. Don't slouch
Human: I want to slouch
Blogger: I swear to fuck, bitch. And stop blocking the view. Should we return here later to get the same view with the sunset?
Human: No. Later I will be drinking.
Blogger: 🙄
2. Is this photography appropriate?
You went to a memorial. A grave site. A place of sacred importance. The site where some shit totally went down a couple of hundred years back. What's the moral stance on photographing this shizz for the blog?
Human: Oooh it's the crypt. Read the little plaque
Blogger: Quick, snap a photo of it looking all mysterious. Wait, should we get a selfie?
Human: Are we allowed to do that? Is this moral? Maybe I should finish reading the plaque…
Blogger: What's it say? Henry VIII once killed a ferret on this spot? Holy fuck! This is blogging gold!
Human: Wait, can I still smile? Is this wrong? Will it make me look anti-ferret? Will PETA come at me?
Blogger: Just get the damn selfie. We'll weather the Twitter storm another day…
3. What the hell is this goody bag?
This is a particular type of hell for the "not properly successful travel blogger". Ie, me. When you start working with travel companies but you're not a good enough blogger to actually be given any travel opportunities they invite you to drinks events to talk about travel you'll never do. Then you have to figure out how to blog about it. They usually send you back out into the cold, grey London world with a "goody bag" full of weird…
Blogger: Oooh, a goody bag! This is a really huge company with budget out the wazoo. This could be epic *excitement building*
Human: Well, it doesn't seem like they spent much on the actual event. I'm not even sure what that was or what we're supposed to do with it
Blogger: Stop being an entitled bitch. We got one free drink…
Blogger: Wait, does this travel company want coverage on my one glass of Prosecco? I mean… surely the answer to this blogging conundrum lies within the wonders of this goody bag
Human: Shut up and open it, what did we get? A discount for future travel? Sunglasses? More Prosecco?!
Blogger: Oh, it's a brochure for a holiday we can't afford… great…
Human: Is that it?
Blogger: No, there's also a plastic replica of their logo.
Human: I don't know what to say to that. Seriously, give me that, I'll dig in the bottom of the bag. I've found one more thing! It's… an oversized men's t-shirt. Also emblazoned with their logo
Blogger: I mean, maybe we could dye our hair while wearing this? How the fuck do I subdue my sense of obligation and create a blog post from this evening? OH GOD WHAT DO I DO WITH THIS?
Human: Unless you're Claudia fucking Kishi with a heightened sense of ironic hipster all of a sudden there's no way we're ever wearing that. I guess we smile politely, send a thank you tweet and expect to NEVER HEAR FROM THAT PR COMPANY EVER AGAIN
Blogger: *burning sense of shame*
4. Wanting to do more travel blogging, but life gets in the way
The way to break into any blogging niche is just to bite the bullet and blog about it like there's no tomorrow. The amazing blogger-perk opportunities will come to you only once you've established yourself as a voice of authority in this arena. But with something as expensive as travel this can be easier said than done…
Blogger: Can we go away somewhere? I want more travel content for the blog
Human: Oooh, I'd like to go away. It's been soooo long and we need a break
Bank account: Ahem *clears throat*
Blogger: Do we have to acknowledge his presence?
Human: I mean, he kind of has all the power…
Bank account: Jesus-tampon-tugging-Christ, did you see that electricity bill?! It just tore me apart!
Blogger: Fuck you
Human: Fuck you
5. How do we actually holiday?
Holidaying should be easy. It should be all about having a good time. We travel to have a good time. We travel to get away from the hustle and bustle of regular life and get some relaxation vibes into our veins. But sometimes blogging turns everything into work…
Human: Oooh, we're in a nice new place, this is exciting. I'm so relaxed zzzzzzz
Blogger: Its 6am! Let's get up and explore! Move! Now!
Human: It's my time off. I don't want to move.  I don't want to get caught in commuter crush. I don't even want to look at a train…
Blogger: But we need to see everything and do everything and STOP WASTING LIFE
Human: zzzzzzz
6. Sneaking photos when you discover your location has rules against it
You're visiting this great new place and  you're super excited to blog about it. Only, when you arrive you see the sign. No Photography. What do you dooooooooo?
Human: Well, I guess you put the camera down and just look through your eyes…
Blogger: OMIGOD how do I live?
Human: Suck it up
Blogger: Haha we can sneak a photo while no one's looking. Pretending to text for the win!
Human: OMG why are you doing this to us? We're gonna get kicked out this is so embarrassing
Blogger: Let me just get another one. This is scoop! This is #content!
Human: Exactly what do you plan to use this wonky photo for any way? Have you thought this through?
Blogger: The blog. Obviously.
Human: You're gonna put that blurry mess on your blog, are you? The blog that you write under your real name? The blog about the place that doesn't allow photography?
Blogger: I didn't think this through. How did I become this person? How did this happen to meeeeeeeeee?!
Join the travel link up via Emma, Angie, Jessi or Lauren by 7 May 2016 and share your own travel blogger problems. It's a form of therapy.