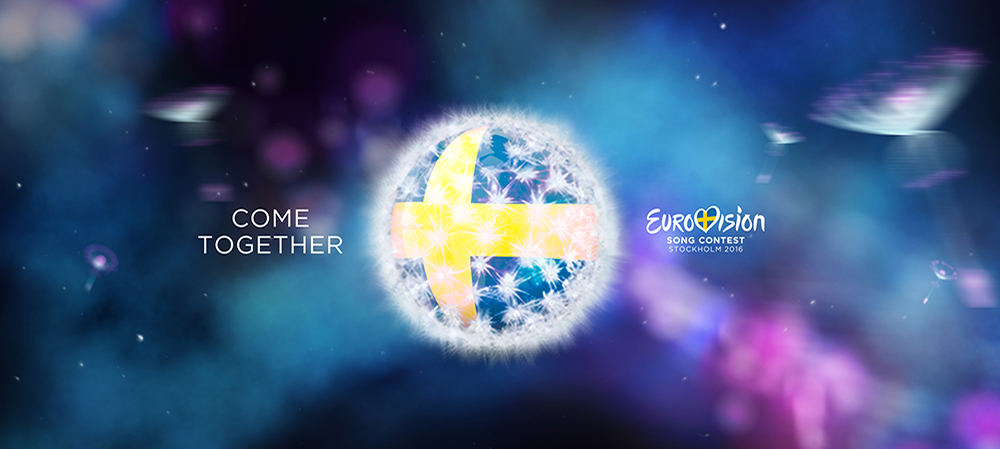 Last night was Eurovision. It was also the start of my period so I was a big ball of achy death crying on the couch with a hot water bottle and every pillow in the Greater London area. Sorry if you couldn't find your pillows last night, guys, that was me.
Basically, the only thing I could do with my life was watch Eurovision and whine. That's what this is. Here are my thoughts on Eurovision 2016 from a pool of pain.
It begins with a weird catwalk of nations. lt looks like peekaboo genitals without the actual genitals, just a lot of flesh coloured onsies paired with giant blobby white things. I'm not even raising an eyebrow.
I'm actually enjoying the techno in this intro. Maybe this is because I know it's surely about to get a whole lot worse.
Seriously, though, how the fuck did Europe get this reputation for being classy? And how do they keep it? Great mysteries of our time.
These hosts. They're basically Thunderbirds puppets. Without the strings
Belgium: The first act. Well… they put a lot of effort into the staging. That's a lot of lightbulbs. That's the best we can say. She does have a hint of Carole King about her. In the face, not the music.
I'm going to spend half the night wondering if every female performer is also menstruating.  Solidarity with menstruaters.
Czech Republic: The song is called "I stand" and the first shot is of her sitting. I feel this may be the ironic highlight.
Part way through the song and she still hasn't explained the standing thing. "I am standing here just because of you, every part of me is a part of you". Is this about shower sex? Painful, dangerous shower sex, where the glass door breaks and you have to try not to stand in the shards of glass?
Netherlands: They've gone country and/or western. Just no. We need more bearded ladies, less of this.
Oh Christ, he's got a neck tattoo. He's smizing. "Slow down if you can't go on". Thanks for the weird advice, shiny man.
Azerbaijan: They seem to have a long lost Kardashian representing them. I want to curl her eyelashes. Also, hair serum could have helped here. Have yet to notice the song.
Hungary: He seems to have forgotten his cough drops. He also can't afford proper costumes for his back up dancers. Oh Christ, they're jiggling.
Ah, I see. He spent his money on this Tibetan monk on a giant drum. Well, according to Graham Norton that's a Tibetan monk. "That's not a Tibetan monk – that's a ginger" – husband (maybe it's just the red light, but he has a point)
Italy: Blush game: strong.
Wait, that's a giant strawberry on that tree. Strawberries don't even grow on frigging trees. Husband very upset that Norton isn't being cynical enough, given the disproportionate fruits running wild here
There has been sod all eyeliner and fake lashes in the acts so far and I'm concerned. She is wearing glittery overalls, though. She's a disco gardener… and she might be offering us a sprouting potato; "We are precious, grazie". This all makes sense in Eurovision world.
Israel: Now this is definitely the South Park emo kid look.
"Dance with me like we are made of stars". What, like big balls of gas? A few stomach troubles for Israel, maybe.
Bulgaria: FINALLY SOME FUCKING CAT EYE! She also has an undercut though, so maybe she is just channeling 2009. Sigh.
Put her on a runway and she could direct planes landing
Is this chorus in English? Because some of this song is. Big discussion. Is she saying "try to be looser?" … "Like me lufter?" Googled it. It's "О, дай ми любовта" (Oh, give me love). Duh.
Sweden: Might just be me, but he looks like the kid from Third Rock From the Sun. And he's dressed like him too.
"If I was sorry" well to be fair to him he doesn't look at all sorry. Maybe he should reconsider that.
The lights behind him are glowing "STOP". They know what's up. Now "DEVIL" is lighting up. Whoever chose these light up word was prickly as hell. 😏
Germany: First laugh out loud moment from Norton, "there's not a single thing about this woman that doesn't annoy me".
Oh, she's a silhouette. Holy fuck, is she Minnie Mouse? No. "Tell me who's scared now?" Most of the audience, probably
This is Harujuku meets German kitsch. You're just 12 years too late for this to be timely.
"This is the ghost of you haunting the ghost of me" – something tells me this all started with a murder suicide pact.
France: Tight black trousers, big white shoes. There's a lot of tight black trousers tonight.
He dances by hunching his shoulders and jerking his tits. It's not entirely unpleasant, just strange.
Poland: SQUIRREL! RED SQUIRREL! GIVE THIS GUY ALL THE FUCKING VOTES.
I'm going to overlook the the emo mooching and dodgy moustache coz this mofo met a fucking red squirrel and I respect that. He wins.
Christ, mate. You're not making it easy for me, are you?
Australia: No, I still don't understand why either.
This is a tragic techno wedding dress look, but it seems to be popular. Good for you Australia, you know your audience.
Cyprus: Well. He's quite intense isn't he? Apparently it's 1984 and techno is masquerading as rock.
Now he's a wolf and the band is  chanelling 80s hair metal while the main guy looks just like your friend's dodgy dad.
Serbia: Morticia meets leather fringing. I'm ok with that.
Scary lurker dude wants to hold her hand. She's having none of it. So he tries to steal a back up dancer. This is how Eurovision tackles the serious issues.
Lithuania: He has very strong feelings about his left arm. It's getting flung every which way.
This look is "Blondie emo". Seriously, has the emo trend only just made it to Europe in the last 12 months?
There's a lot of nose contouring tonight. That's just occurred to me. Pointy.
Croatia: Ok. This is futuristic Robyn in a techno kimono. She's flapping her arms a lot coz that's all you can do in this outfit.
Husband just called her "an animated stained glass window". 😂
Russia Oh. He's a shadow puppet.  Husband is very impressed with the staging and getting more impressed as this goes on.
I feel he's got a touch of the Gary Barlows about him.
Spain: Glitter basketball jersey is here.
She dances like a duck but I like it. Husband chirping along merrily.
Latvia: More skinny black jeans and leather jackets.
My tits have just started aching and this isn't helping, at all.
"Feeling your heart beat, that's all I want" Ummmm, what? Does he have a stethoscope? Is he a personal trainer? Is he experimenting with risky recreational drugs and trying to avoid recreating that scene from Pulp Fiction?
Ukraine: Graham Norton calls this "a sincere, heartfelt performance". Husband: "Well, that won't win". (LOL!)
Well, at least it's not disco. Husband comparing her to Kate Bush.
Malta: Husband is much too involved with this.
She has three bumps but I think only one of them is biological .
The guy doing the worm in a suit is distracting me.
"Feels like I can walk on water"I feel we've missed a prime opportunity for a break dancing Jesus.
Georgia: It's Babyshambles meets Robin Hood. That hat… it has a feather
Casual Oasis lookalike on guitar
I like this. Even in spite of Graham Norton's hatred
Austria: If Avril Lavigne went Disney princess. She has that Sleeping Beauty thing. Without the sleep.
She's way too happy. I think some of that wind machine breeze is going up her dress and caressing her special place.
UK: So, who even are these guys?  Oh good, they got the uniform down. Skinny black jeans and leather jacket .
It is Coldplay-ish, isn't it. Ok. Fine. Don't care if I never hear this again, don't care if I hear it once every three days for the next seven years.  It's ambivalence from me.
Armenia: She's doing a slow exaggerated pelvic thrust at us. She's wearing a cape. I feel like this is my behaviour while wearing a cape, too. Capes change you. I feel pretty positive about this.
Right, now we have voting, Justin Timberlake, more shite from the hosts and various video interludes. My favourite is the short film about Swedish music, where I perk up and get very vocally excited abut The Cardigans.
Get on with it
The Ukraine has won. Clearly, this household knows nothing.