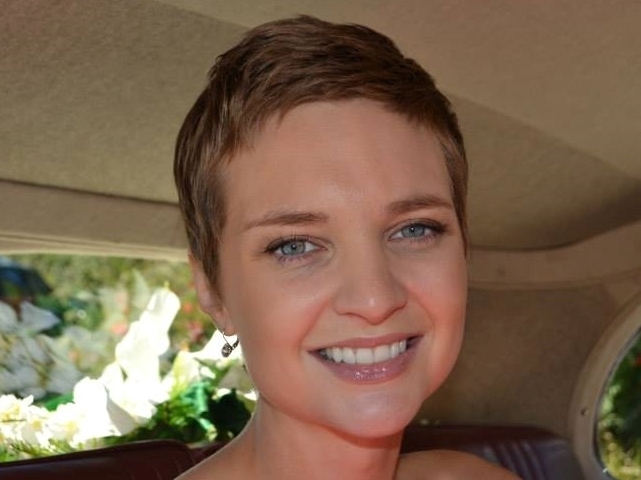 A slightly less frivolous subject than usual shall be taking over themayfairy.com today. You may remember my friend Tammy from this blog post. She's one of my oldest friends from New Zealand; I weaseled my way into her friendship circle at high school when I was 15 and surly. We've remained close through the years, even while living in different towns (the university years) and eventually countries. I was the person she called when she lost her virginity. She was the girl I consulted when I needed to learn about how best to squat so as not to pee on your shoes. We get each other and this is definitely a long term love affair.
That blog post from last year was one of my first and basically we were hanging out in London because she was heading back to New Zealand after a short stint living in Cornwall. Why? She wanted to be with her sister, Natalie, who had been diagnosed with cervical cancer and was due to be undergoing chemo.
Tammy's family (the Patersons) are one of those familial cliques that function as friends as much as family. They hang out with each other as much as they possibly can just for the fun of it. If you are friends with one Paterson sibling you are pretty much forced to be friends with all the Paterson siblings, which isn't much hardship as they're all fun at parties. We'd all drink together and dance together and listen to bad 80s love ballads together. We'd use their family beach house as a retreat for high school angst. Tammy's parents taught us all about responsible drinking as teenagers (we taught ourselves about irresponsible drinking, and very educational it was too).
Hence I became attached to Natalie Paterson, Tammy's younger sister, as well. She became a graphic designer who was all mixed up in social media marketing (like me) and we'd have Facebook chitter and business chatter. Well, at the age of 26 she got cancer. While the prognosis was positive at first (I remember Tammy telling me there was nothing to worry about) it meant that she wouldn't ever be able to have children. Horrendous news, I'm sure you can imagine.
Amazingly, she didn't let it get her down. She smiled and said "screw you cancer, I'm too hot to die" and entered the Miss Universe Pageant (the Dunedin heats). She just carried on being Natalie, which is a pretty awesome mixture of gorgeous, sunny, bright, sparkling, rainbow unicorn, glowing, kind, polite, humorous, fabulous, good looking, sweet smelling, and booty wriggling. Natalie is one of the most beautiful girls you'll ever meet (she's got that whole lean, tall, long and gangly, blonde and glowing look that's been in since before we care to remember). She's done a whole heap of modelling. She's brainy and clever and witty (she set up her own business, she knows shit) and while all these are perfect reasons to hate and envy her, you can't. She's one of the nicest women I've ever been privileged enough to know, and never has a bad word to say about anyone. On the contrary she's always buoying people up with the sincerest of compliments. I've never heard a bad word said against her either, and frankly I'm brilliant at seeking out the bitchfest the lurks in the dark corners of most peoples private lives. There's just nothing bad to say.
Unfortunately, the cancer is an aggressive and angry form of hell and every time we thought it was all gone and defeated it came back. Finally the health system in New Zealand put Natalie into hospice care as there was nothing more they could do for her. Look, I'm as big a fan of equilibrium as the next person who really likes equilibrium, but this isn't a side effect of having lived an idyllic life thus far, this is nasty, disgusting and stomach churningly wrong. Yes, cancer is a fact of life, but we don't need to let it be a fact of death. We need to help Natalie.
The Patersons were unwilling to accept defeat just yet, so they found a treatment facility in China that accepted Natalie. She's already been for one round of treatment and she's currently in China undergoing her second. It seems to be an interesting mixture of new treatments, cutting edge treatments and some good old fashioned chemotherapy and and radiation. It's stuff that's just not available in New Zealand. It's also stuff that costs a fortune.
Tammy set up a Give A Little page specifically to fund Natalie's treatment, and you can find it here: givealittle.co.nz/cause/nataliepatersoncancer. On it she's written more specifically about Natalie's condition and the treatment she's undergoing, so you need not pay too much attention to my incoherent ramblings. She's already raised a phenomenal amount, but this treatment is really, very, extremely expensive, especially when you factor in international travel, time away from work, and living expenses for the family members travelling with her. I know there are lots of people out there all asking for your money, a lot of them with equally heart tugging causes, but I've put together this list of three reasons why Natalie should be flicked a fiver (or anything else you can manage).
Three Reasons You Should Donate £5 to Natalie
If you are looking forward to a summer holiday on the beach donating £5 to this good cause is guaranteed to make you feel better naked (or in a bikini). While Natalie is doing a brilliant job of being "human" and living amongst the rest of us with her human diseases and noodle eating and what not, I have reason to believe she is actually the Patron Saint of the Bikini Body. Meaning a body that feels comfortable in a bikini at any size. Her body confidence has always been one of the things most admired about her and I'm sure she'll sprinkle a little bit of this magic upon you if you need it!
You might be Natalie's arch nemesis, and you cannot let cancer get to her before you do. Donate, help her get her treatment and then I suppose wait for her to get her strength back before organising some sort of dual in keeping with your arch nemesis duties. That part's really your responsibility, but if you don't help now you are doomed to failure.
Phoebe was always the best member of Friends. Remember when the people in Ross's new building wanted him to donate money to the handyman's retirement fund, even though he'd just moved in? Ross refused, but Phoebe gave them money because being a generous stranger is always fun. Phoebe was right. Being a generous stranger is the most fun you'll have on a Monday. You too can be a Phoebe, and stick it to all the Rosses of the world (screw that guy). Try it, I implore you!
I really, really, really want Natalie to be ok. This is one of the saddest things I've ever had to write and I'm a little lost for words. If you'd like me just to get back to normal programming please help me help the Patersons by sending a cheeky fiver their way. Please.
Lastly, I know some of you won't be able to donate. You've got your own problems, causes to fund, lack of funds available for charitable giving, or you just don't want to. This is fine. Please do me one favour, though, and get your cervix checked. When the doctor sends you that letter, please go straight away and make an appointment. Yes it's uncomfortable and maybe a little embarrassing, but it's better than chemo.
Here's that link once again: givealittle.co.nz/cause/nataliepatersoncancer
Let me finish with this cool video Natalie's friends made for her after she had major surgery in November. She edited the end when she felt strong enough to dance in a paddock:
[youtube https://www.youtube.com/watch?v=utZRVZABnHI?rel=0]