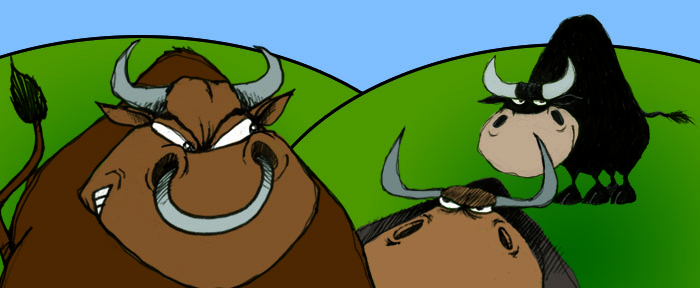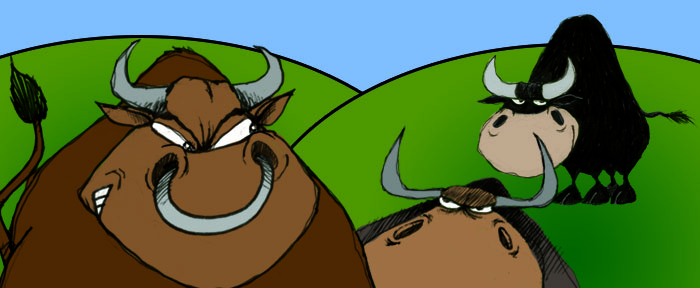 Holy hell on a cracker, people, it's May already. And what have we achieved? Not much. What will we achieve? Probably very little, looking at the forecast ahead. Oh well. At least you've been warned. I have however, secured the services of an illustrator, to give us pretty pictures while we read each month. This month Taurus fell out of his pencil. Enjoy.
Aries
March 21 – April 19
Your attempts to blend into the crowd will fail when someone close to you decides to tie dye all of your clothing, in an act of retribution for that time when you kissed their uncle. If you're not aware that you did it, you did. Uncles are everywhere and crop up when you least expect it.
Taurus
April 20 – May 20
You will have beef with a coworker, that will culminate in a marshmallow-flinging-half-hour-of-terror somewhere near a historic landmark. Do not give in,  you are right. And don't pay too much attention to the pictures printed in the Daily Mail.
Gemini
May 21 – June 21
There will be two sausage rolls on the table. It is your objective to choose the one that doesn't have a human thumb embedded.
Cancer
June 22 – July 22
There will be an accident in the kitchen and you will consider moving house rather than attempting the clean up. However, down at the local pub you'll meet some folk who specialise in radioactive waste disposal, and the whole situation will fall into place.
Leo
July 23 – August 22
Now is the time for enjoying big, fluffy, voluminous hair. Forget any ideas you had about wearing a hat, they just don't fit anymore.
Virgo
August 23 – September 22
It will be your first time cuddling a monkey, so we understand why you're nervous. It won't be your first time dealing with fleas, so we're not sure why you don't just get on with it.
Libra
September 23 – October 22
You will hire a personal trainer and lead them over to the dark side. As you both sit, late one night, surrounded by a river of jelly, devouring a drum of trifle and waiting for your pizza delivery, you will feel a little guilty. This feeling is easily drowned out with leftover Easter chocolate.
Scorpio
October 23 – November 21
It stings, but you like it. No, it's not typical behaviour for someone of your age and your friends won't understand. You'll need to find a secret forum round the back of the internet to discuss this in more depth.
Sagittarius
November 22 – December 21
Your feet look good this month. Show them off by wearing sandals. Of course, you then have to balance this by being nice to people, lest you be chased or be stomped on.
Capricorn
December 22 – January 19
You will find a source of extremely cheap goat's cheese on the internet. Ask yourself, what do they really mean by 'cheese'?
Aquarius
January 20 – February 18
You will start a new business building water slides for the summer. Let the count down to A&E start now!
Pisces
February 19 – March 20
Someone will attempt to lure you in to a romantic getaway. If you do not see through the ruse in time you will spend the next 6 months on a fishing boat traveling around the Arctic.