How do you define 'home'? Right now, 'home' is London, 'home' is Greenwich, 'home' is where ever I can hang out with my husband away from the rest of the world.
But when people ask where I'm from, home is New Zealand. That's where my family is, that's where I grew up, that's what shaped me.
In London, people ask where you're from A LOT. Coz everyone is from somewhere. Even the London people have a specific part of London that they feel is uniquely theirs. I've found that how I answer this question depends on who's asking and the conversation tends to go one of three ways.
If you're from a big famous place that everyone knows – Paris, Chicago, Sydney – your answer to "where are you from?" is probably a lot less complicated than if you're from somewhere a little further off the beaten track.
If, like me, you're from Invercargill, New Zealand, the conversation tends to go like this:
When relatively normal people ask where I'm from: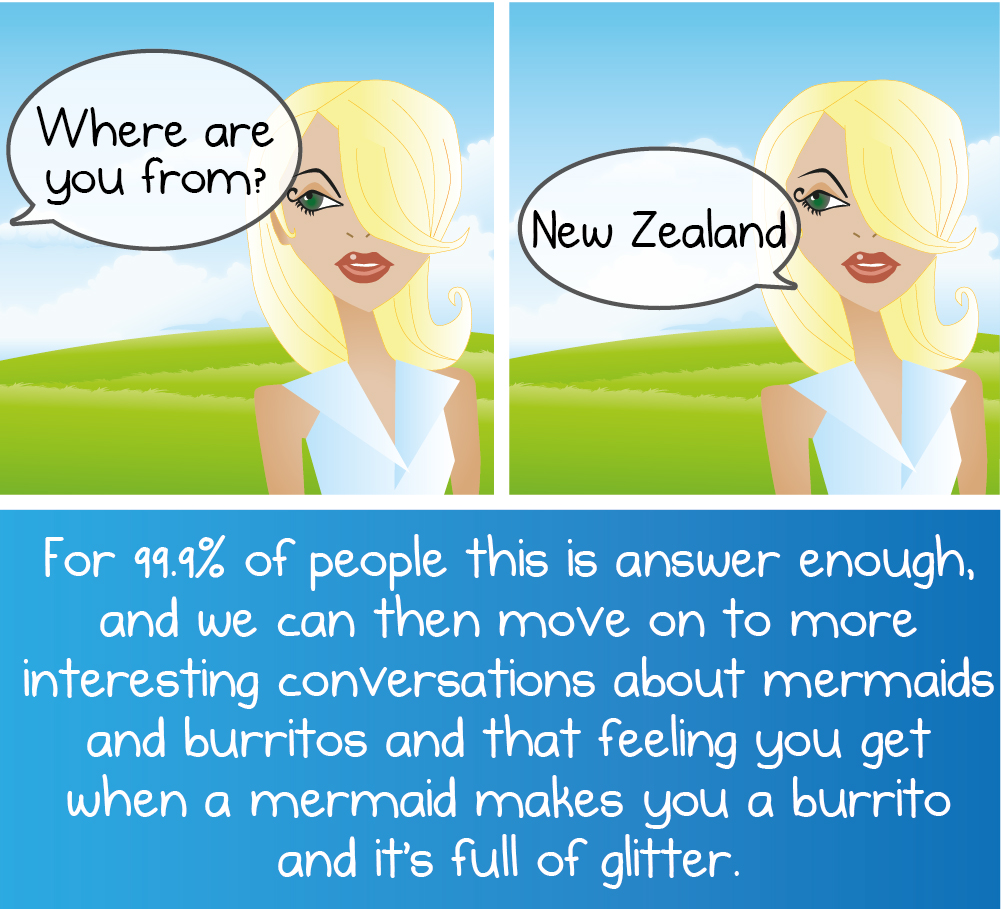 This is best case scenario. Most sane people will react this away. All good, except I don't have many conversations with the 99% of the population who are sane. I tend to attract the weirdos.
When someone else also from New Zealand asks where I'm from:

I love you, fellow New Zealanders, but we're all fucking nuts. And stop turning my accent into your own personal circus side show, it's not my fault.
(This is the accent I'm on about, for all you non-kiwi types)
When someone who thinks they know everything about New Zealand because they saw Lord of the Rings 12 times in high school asks me where I'm from:

Look, if you hear that I'm from New Zealand and that excites you and you want to share the story of how your friend went to Wellington and broke her arm while dressed like a penguin in a brothel, please just tell me the fun story.
Don't make us both go through the pantomime of pretending that the differences between Stewart Island, Queenstown and all that lies in-between is scintillating conversation. I will just make it weird.
Also: I really like taniwha.
This blog is part of the travel link up – this month's theme is "home".
You can join the link up by writing a post over the first week of the month (the 1st – 7th July 2016) and add it to the link up widget found on Angie's, Jessi's, Emma's or Polly's blogs.