I don't eat weird things. I'm not Super-Adventure-Girl when it comes to food and sampling the local cuisines in the places I travel.
You won't find me at the Hokitika Wildfoods Festival scoffing testicles. I told escargot to go somewhere else in France, frogs' legs too can take a leap.
I wasn't interested in sampling some guinea pig in South America, especially once I saw photos with the paws left on. Call me one of those sterile city slickers with no idea about where food actually comes from, but I like to have the paws removed from my food before it gets to my plate.
I don't envision myself ever sampling dog, whale, puffin, tarantula, crickets or anything else that you probably won't find in a cardbook book entitled "barnyard animals". Heck, I can't even stomach the thought of oysters. One time at a school barbecue a kid ate a huhu grub and I blurghed for days. Yeech.
Somehow though, I ate a pigeon. I mean, it kinda seems safe. They even serve it in London – in fact I have it on good authority that a restaurant overlooking Trafalgar Square used to serve it. You could watch the little wastrels scampering around while you munched their brethren. Pigeon sits in that little zone of creatures that people eat when chicken isn't quite fancy enough. Quail, pheasant, poussin, what have you. Well, perhaps I used some mental gymnastics to elbow it into the "not quite a chicken" category.
Stranger still, I ate pigeon in Egypt. Now, we did stay at a resort in Egypt and it was rather nice. There were big brochures filled with elaborate ice creams and sundaes that were thrust in our direction everywhere we went, for example. But we were warned multiple times by the staff and everyone around us not to drink the water. We became so paranoid about the water that we only drank Coca Cola from the can – also it gave us a kick to see the branded "Coca Cola" logo down the side of the can in Arabic. Small things, huh?
In this state of heightened paranoia about everything, I'm not sure why we ordered the pigeon one night, on a whim. To be fair, we only ordered one to share. We weren't completely bonkers.
It was ok. It was quite tough and  you had to work for your food, generally poking about the carcass searching for the little meat that was available. Wouldn't bother eating it again unless I knew the chef was awesome, but totally edible. That's my official food blogger verdict.
However, as this happened in the days before food blogging we didn't bother bringing our camera to the table. So I have no evidence. The pigeons still knew, however.
As we continued our journey into Europe they scowled at us with their beady little eyes. They dive bombed us in public squares. One attempted to shite bomb Mark as we left a London train station. By the time we journeyed across to New York it was getting ridiculous. We had to call a truce.
And that is why now, wherever we go, whatever we're doing, we always make time for a pigeon photo shoot. If we take the pretty pictures they may just leave us the fuck alone and forgive us.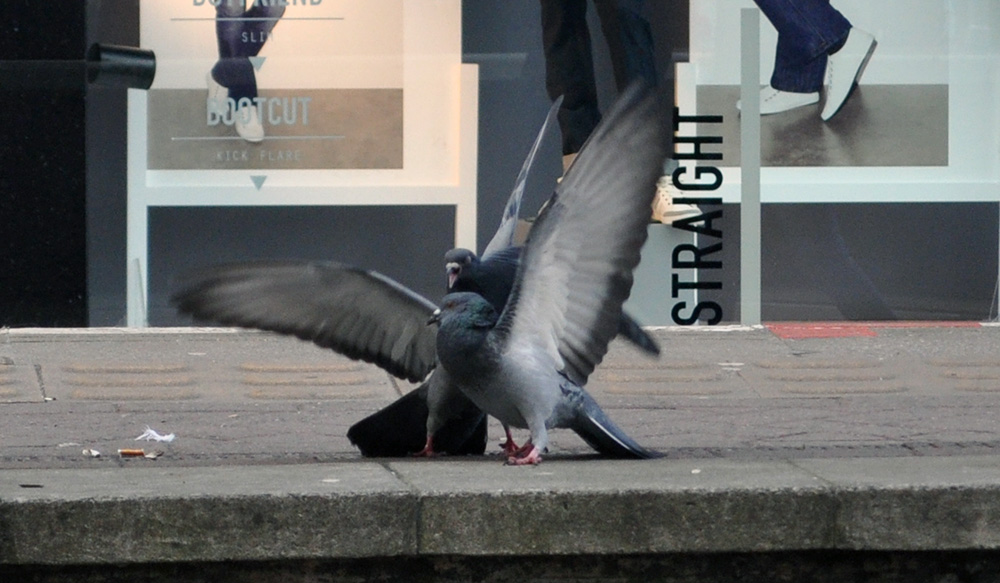 This post is part of the Travel Link Up. Join in by adding your foodie travel post to the widget on  Angie's, Jessi's, Emma's or Tanja's blog before 7 September 2016.