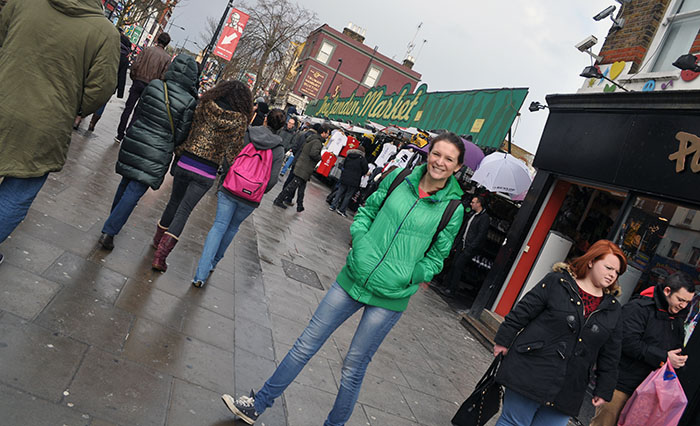 This bean pole is named Tammy. She is a kind, adventurous soul who I attached myself to in high school, and she has failed to shake me yet. Until recently, she was yet another Kiwi in the UK. But, as she based herself in Cornwall rather than London, she didn't really have all the usual 'Kiwi in the UK' experiences. She came to stay with me in London a couple of times, and earlier this month she informed me that she was moving back to NZ and needed to do London one last time. I had already shown her the inner city tourist jaunts. The Ben that is Big, etc etc. So, I took her to glorious Camden Market. This was a good idea as we are both gaga for shoes, food and general craziness. This was a bad idea as she already had too much luggage and couldn't buy anything. Theoretically, I could have bought stuff. I live here. But in the spirit of solidarity, I didn't.
Camden Market is always a magical bustle of insanity. I love taking unsuspecting Kiwis here – I get the impression they think I'm taking them to some kind of shopping mall. I knew Tams would love it, as 1) she has an affinity for clothing that should be worn while standing  next to an alpaca, and 2) she can enjoy a good comedy t-shirt with none of that annoying, ironic hipster bollocks tainting the experience.
We went on a Saturday, and there was a huge glut of hilarious inexpensive nonsense we would have loved to acquire. Seriously, necklaces, handbags, shoes, wigs, belt buckles, we fetished it all. Shop keepers and stall owners nervously circled us, afraid that we would lick the merchandise. In fact, the stall owners are some of the best colour of the market place. New Zealanders aren't really used to being yelled at while they try and casually browse. Pointing and laughing at an item in derision is usually taken as a sign that you'd like to haggle, or even that you'd like to strip down in public and try that hilarious "i-pooed" tshirt on. Wouldn't want to look silly in an ill-fitting t-shirt now, would you?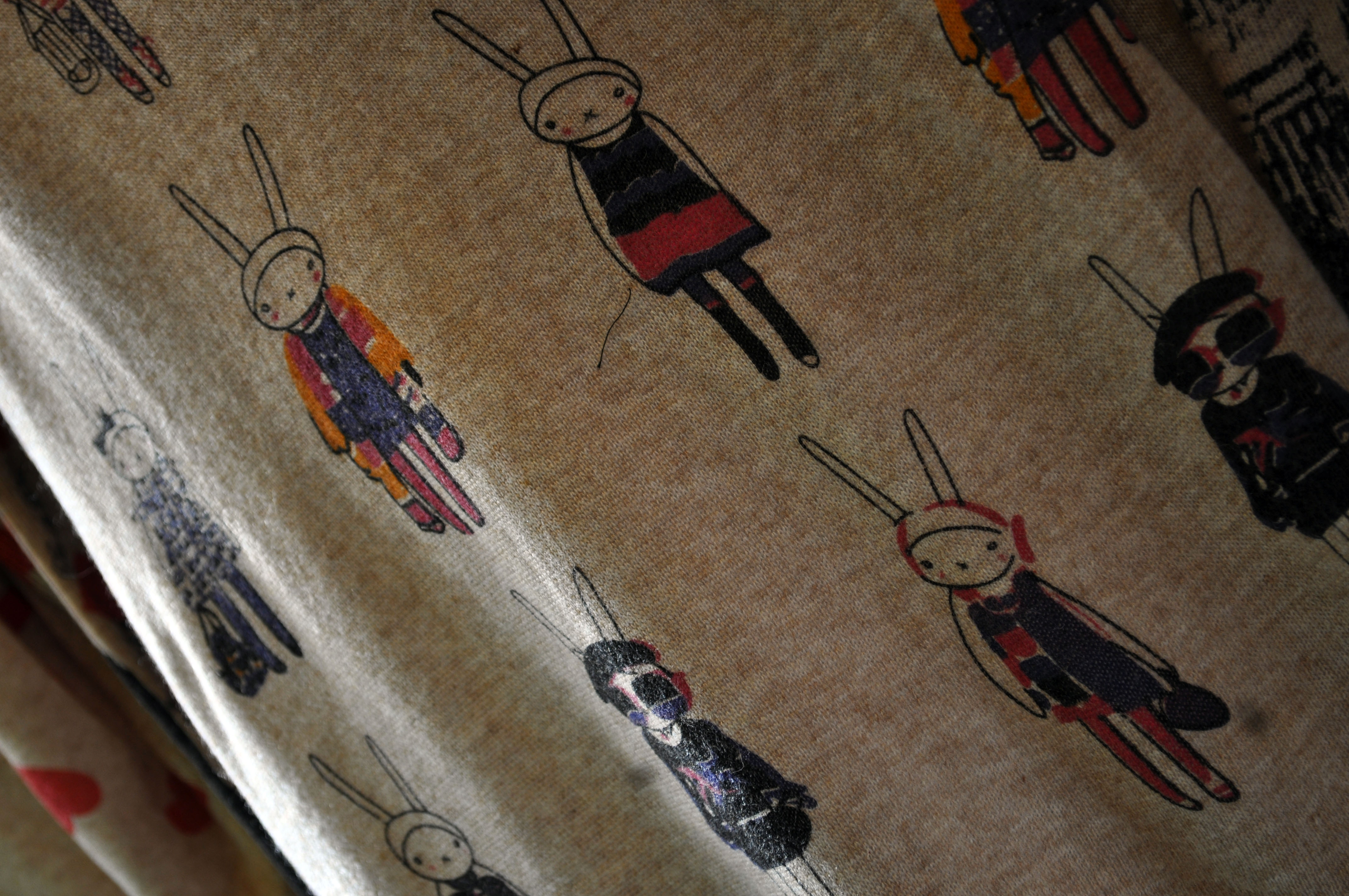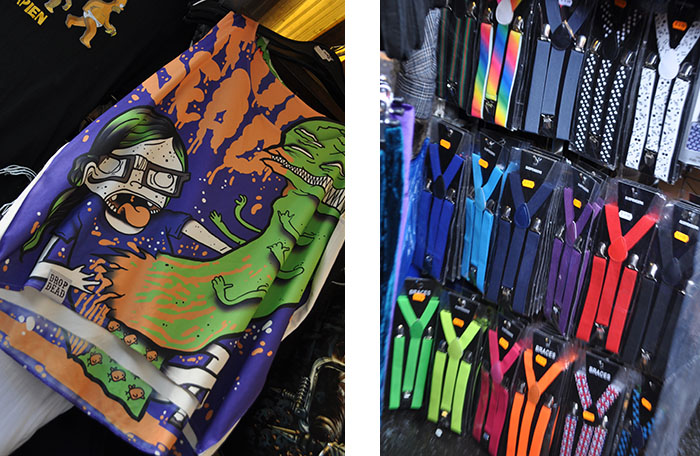 For instance, Tammy thought the t-shirt above was insanely hilarious. I snapped a photo for posterity's sake and was immediately descended upon by an angry stall keeper who had seemingly materialised as if from nowhere. She hopped around forbidding further photography by putting her hand over my lens. This technique obviously worked a treat as I had no intention of taking further photographs at her stall and we all know that a hand over the lens immediately deletes any photos the hand-owner dislikes from the memory card. *Cough*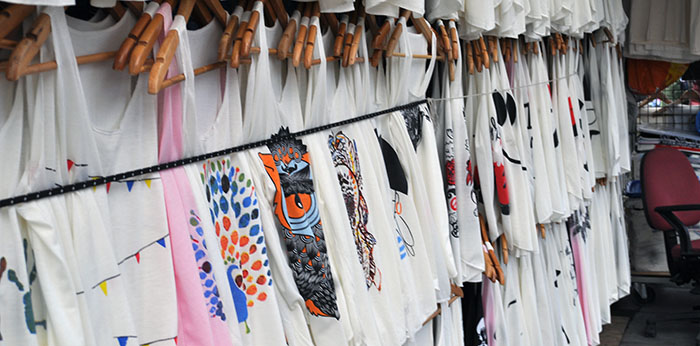 These also are photography-forbidden tshirts. You shouldn't be looking at these. Look away, before it's too late and you become a rebel for life, lest you find yourself doing appalling, renegade things like making cups of tea without checking out everyone's milk and sugar requirements first. Perish the thought.
The best part was the shoe shopping. Miss "I'm going to the other side of the world and have no room in my bag" even tried stuff on! Luckily for Qantas baggage handlers, her size had sold out. We also bemoaned the super high heel that has permeated most shoe shops. Me, because I'm clumsy and like to walk everywhere and Tams because she is already a venti stick insect (to use the imperial Starbucks sizing) and doesn't need any help in the tall and leggy department. There were a lot of sexual shoes on display though.
These are obligatory photos of the street and how the shops like to decorate themselves in these parts. If you don't like shoe shopping, you will like dragons. It's the law.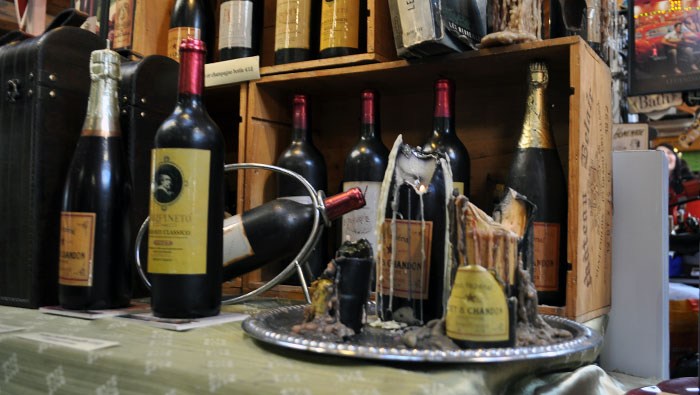 We also discovered these wee gems. They are candles that look exactly like wine bottles. Pretty nifty, huh? No. These are dangerous and ill-advised, and ought to be banned immediately. Sure, it looks fun and whimsical, and we all get a kick out of the "you thought this was that but it's actually something else!" gimmick. But what happens, when, on a cosy night in you begin the hunkering down process, you've got on comfy pants and socks and you're safe in the knowledge that there's wine in the house to complete the evening's festivities. Well, you thought you were. You don't have wine in the house. You have Mr Comedy Candle here, except this time it's not so freaking funny. You've got an emergency on your hands. You're beginning to sober up and the only way out of this catastrophe is put on outdoor attire and to leave the house. It's a chilling thought. Don't let it happen to you.
Of course, by the end of our long session of window shopping and general poking about, we were starving. That's when Tammy first became acquainted with the Camden conundrum. Everything in the food market area smells amazing. A. May. Zing. You can't decide what to have. You jump from stall to stall, sniffing and sussing out the quantity of food, the flavours, the spices, the availability of chips. However, nothing ever tastes as good as it smells. If this is your first time, you become frustrated, convinced that you made the wrong choice, and picked the one dud meal in a sea of fantastic smells. It is never the case. You must learn to accept the fact that your nose is a specious bastard and can't be trusted within Camden's mystical confines. For the record, we had Argentinian chewy steak burgers with waxy potatoes and a homemade salsa type concoction made from unenthusiastic tomatoes. But it filled the spot. Afterwards, there was nothing left to do but dance in the street: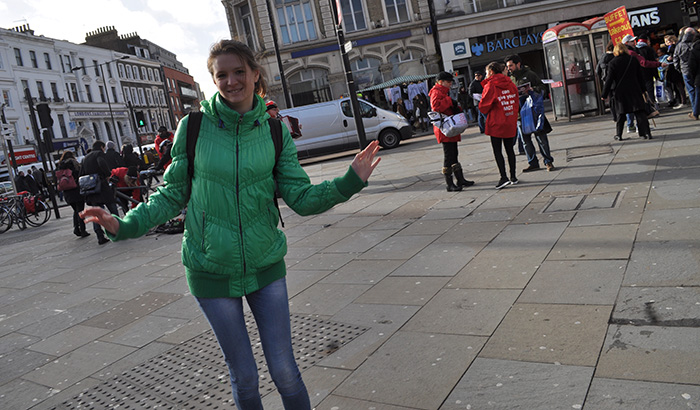 Tammy is currently back in NZ, enjoying the long, white cloudyness of it all and learning to trust her nose again with all manner of plate-dwelling deliciousness. No word on whether she is still dancing on street corners, but if I had to hazard a guess, I'd say once a street dancer, always a street dancer. She's probably samba-ing her way down some rural highway right this instant.