When I heard the news that I'd been invited to Hamilton, I was understandably excited. Hamilton was the stand out hit on Broadway, the play to see and to be seen at. How on earth did someone I know have enough gravitas within the theatrical glitterati to actually nab tickets to this masterpiece?
Oh for fuck's sake. I wasn't invited to Hamilton, Broadway, New York. I was invited to Hamilton, New Zealand. Same price tag basically, but none of the glitz.
Ok, I was going to make the most of it. I asked around for recommendations; what's the cool side of Hamilton, kids? Well, the consensus was nothing, but as New Zealand's fourth biggest city there had to be something, and I was determined to find it.
My husband and I arrived on a Friday morning. We basically had a day to fill before attending a wedding (the aforementioned invitational event) on the Saturday. The plane we flew in on was one of those ATR propeller dealies and the airport had a striking statue of Gandalf. This was going to be an interesting trip.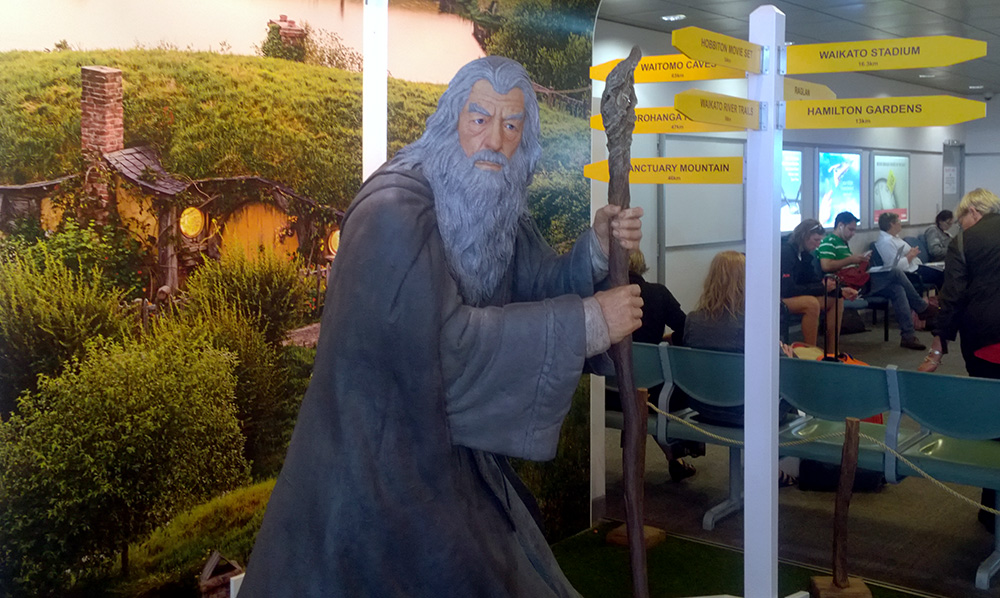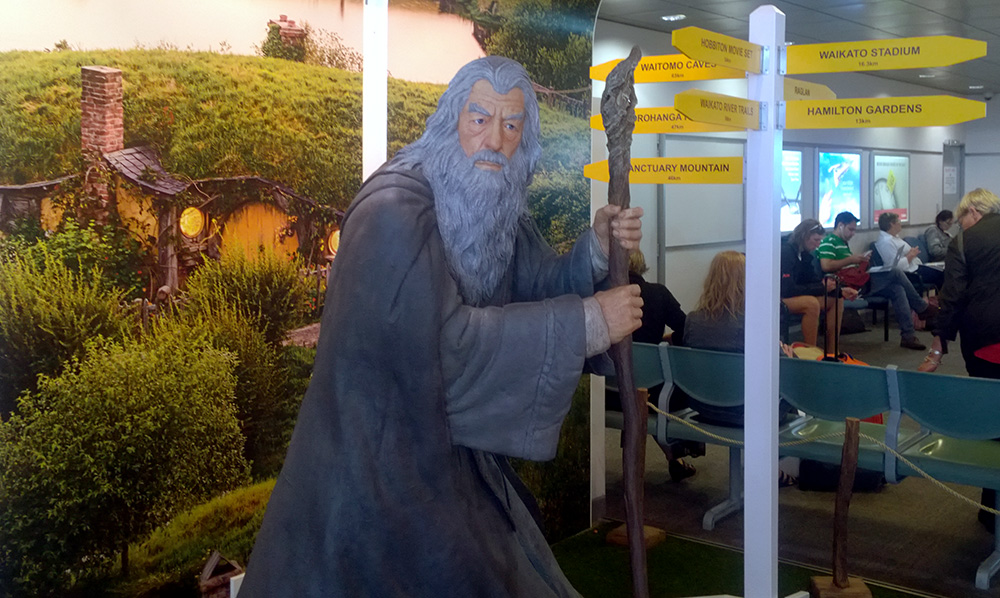 Once I had convinced the shuttlebus driver that taking us into Hamilton would indeed be a good idea (a surprisingly difficult ordeal) we arrived at our hotel and conducted some cartoon business via email in the lobby while hoping our room was ready. Our room wasn't ready. We decided to pop out for snacks while we waited for editorial confirmation for the cartoon and to cross our fingers that we'd be able to get into the room to freshen up on our return before heading out on official "day before wedding business".
Off down the road we went, in search of food. The smell of fried everything immediately arrested my husband and he followed this siren song into a casual cafe establishment. There was a crescent of around 5,693 display cases stocked with every vaguely edible thing fried, battered and otherwise treated badly.
My husband chose a deep fried lasagne, a spring roll and a saveloy while I admired the decor. Instead of fancy wallpaper they had printed out a montage of black and white stills from their CCTV camera of drunk people robbing the place. People pocketing paper cups filled with chips and people munching hotdogs without a care for the traditional exchange of currency that preludes such an experience.
In some cases identifiable persons seated in the background had scribbled out their faces with black and blue biro, ashamed at having concrete evidence in the public arena that they'd once enjoyed a battered sausage at 3am with their fingers and nary a plate in sight in this fine eatery.
On another wall they had a panorama of the Swiss Alps. Possibly to cover some despaired 3am graffiti in excrement declaring "WHAT THE FUCK AM I DOING WITH MY LIFE", though I have no way of knowing for sure. It seemed to be the kind of place where one would have such an epiphany.
I sat at a nearby table while my husband paid and then enquired about getting some tomato sauce. He was told there was one bottle of sauce and every patron had to learn to share it. I was just happy in the knowledge that money had changed hands and my face was not to be printed and displayed on the badass wall of thuggery. While Mark strolled from table to table, locating the sauce and negotiating its use in a timely fashion I took a closer look at the other diners.
Shoes seemed to be optional at best, and if one was feeling fancy enough for footwear then the sock and sandal ensemble seemed to be the footwear of choice. This part of the blog is not to be mistaken for hyperbole. I must have seen at least four pairs of socks and sandals within my first half hour in Hamilton's city limits. It eventually became so commonplace that I began not noticing it all together.
I sampled a bit of my husband's saveloy (not innuendo unfortunately) and immediately regretted it. This was not a place for those of us with delicate digestive systems. The meal passed without further incident and I was soon enough back in the hotel lobby learning that my room was not yet ready. I charged my phone at the breakfast bar and plotted my map through the city to my next engagement.
As I'd left Christchurch that morning in cold and rain, I wasn't quite dressed for a more upmarket tea in Hamilton's cosy 20 degree weather, but I had no choice so I began walking.
While Christchurch is New Zealand's third biggest city, with around 150,000 more residents that Hamilton, I found Hamilton to be far more of a big Invercargill than a smaller Christchurch, if that makes sense. It had more of the farming city feel about it, and the mood was similar.
While I knew about the big beastly river flowing through it, I wasn't prepared for the lake. These gave Hamilton more of a watery feel that Invercargill doesn't have, but I still stand by my Invercargill-on-steroids conclusion.
Tea went well and within the next 24 hours I had sampled a few more bars and restaurants. Lest you harbour any great apprehension at dining out in Hamilton in future, let me assure you that these were in line with a more typical dining experience. Some were even deliciously appetizing.
My final Hamilton challenge, or shall we say adventure came in the early afternoon before the wedding. I had noticed a little bit of fraying in the stitching of my dress that morning, which was annoying as it was not a cheap dress and I had only worn it once before. Upon trying on the dress I found the frayed section had worked itself into a hole around around a rather delicate area – shall we call it the bullseye of my bottom.
I didn't fancy buying a new dress. But I didn't fancy risking a full knicker reveal at a wedding either, no matter how nice my black lace intimates actually are. Problem was, I had no real idea how to fix it. Sewing delicate fabrics in delicate areas was pushing my abilities a little. I tried to send a photograph to my mother – a skillful seamstress – but she is not so skillful in the technology arena and had managed to delete her Facebook Messenger app within a day of my leaving her. Well then. Google was my friend.
I found what promised to be a sewing shop withing walking distance of my hotel, grandly labelled an "emporium" rather than a simple store. I hoped to find a kind old woman behind the counter to guide me. Instead I found a massive store filled with crafts and costumes, along with fabrics and threads. There was a kind old lady behind the counter though, who told me the sewing kits were down the back.
I walked past the people trying on gorilla masks, witchy wigs and bejewelling their socks to match their sandals. My dress was pretty much black with black and white pleats around the hole. I had two choices of sewing kit. One with black thread and a bunch of safety pins and another with a whole heap of crazy coloured threads and needles. I needed the needles, so my bottom would have to be crazy coloured.
I'm happy to announce that I learned a lot about sewing in that frenzied half hour before I absolutely had to be ready. I fixed my dress. I didn't flash my knickers once. Everything went better than could have been predicted.
Well, unless you count my husband's sojourn to the shops while I was distracted by my visible bottom. He went to get wrapping paper for our gift. He came back with a transparent wrap of no use at all and had to head out a second time in a race against the clock.
It still worked out in the end. Thank you, Hamilton