Just over a month ago I embarked upon a whirlwind trip to Manchester with my husband. We went in order to attend a friend's wedding, but we had a bit of free time to spend mooshing around the streets.
I had never visited Manchester before and neither had Mark. This is quite an achievement as it's getting rather difficult to find a city of interest that Mark hasn't previously visited. We asked around for tips, and people jokingly told us to visit the "gay village". I thought this would turn out to be a rather old fashioned term for a quaint part of town. Think Enid Blyton gay. Nope. It's actually full on homosexual gay and it's one of the most interesting parts of the city, with bright murals, lively nightlife and amusing signage.
The other thing that people told us about the North was that folk were ultra friendly. We discovered this be true upon immediately entering the Premier Inn and being greeted by the world's friendliest beardy guy named Tim, and entering into a lively conversation with the rest of the staff at reception about who would and would not like to shag Lenny Henry. One woman only works there as there's a small chance she'll get to meet him and be offered the opportunity to climb on. Good to know. Suitably cheered by the staff demeanour we ended up having dinner there. Well, we ended up having chicken wings (with four different sauces!) at the hotel bar and eating burgers and pizzas in bed later on. We were drunk, it seemed logical.
I have to confess, we were so startled by the bubbly customer service that Mark started treating Tim like a close personal friend, and not like a man who's being paid to be civil to ridiculous drunk people on holiday. Having run out of his own stack of business cards, Mark went through my bag to grab one of my blog cards to give to Tim so he could keep in touch. In the cold, sober light of day embarrassment feels rather tingly.
The morning before the wedding we went into town on a photography mission. We found pigeons and historical buildings eager to be photographed. We also found a big wheel. Not as big as the London Eye, but still rather large. I've never been on the London Eye; I'm afraid I'll need to pee half way around and wet myself. This is a smaller ferris wheel with cable car like capsules. I've done cable cars plenty of times, and I was willing to bet that Manchester might be a little more interesting from above. Not to shit on Manchester, but it wasn't all that different looking to the the boring parts of London. Maybe up high we'd see some canals or a landscape feature or something. Unfortunately, it remained rather grey. But we got a few pics.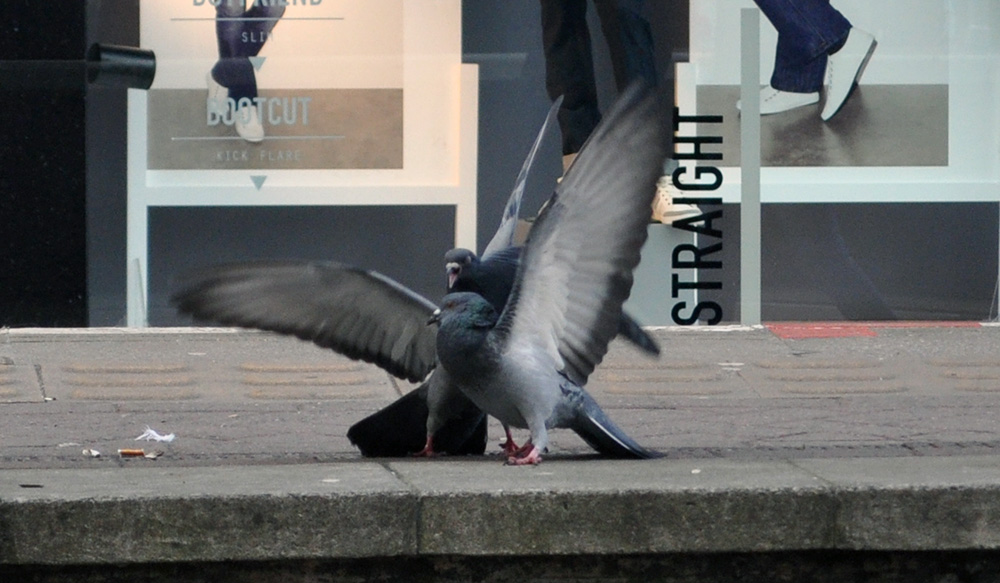 We didn't have a lot time and we didn't get to really explore the little nitty gritty corners, but I think we got the feel for the place. We chatted to lovely, friendly, random strangers. We enjoyed the thrill of a big city that's actually walkable. We ate some brilliant, simple food. I even discovered what a "barm" is at a little breakfast spot! Kind of a breakfast bun. A bacon sandwich that's more hamburgery than your usual sandwich. Go to Manchester, try one.
And if you do, definitely stay at the Premier Inn. You're guaranteed great Lenny Henry based conversation. Just try not to get to drunk and make an arse of yourself.